About the Book
The 'Special Period' in Cuba was an extended era of economic depression starting in the early 1990s, characterized by the collapse of revolutionary values and social norms, and a way of life conducted by improvised solutions for survival, including hustling and sex-work. During this time there developed a thriving, though constantly harassed and destabilized, clandestine gay scene (known as the 'ambiente'). In the course of eight visits between 1995 and 2007, the last dozen years of Fidel Castro's reign, Moshe Morad became absorbed in Havana's gay scene, where he created a wide social network, attended numerous secret gatherings-from clandestine parties to religious rituals-and observed patterns of behavior and communication. He discovered the role of music in this scene as a marker of identity, a source of queer codifications and identifications, a medium of interaction, an outlet for emotion and a way to escape from a reality of scarcity, oppression and despair.
Morad identified and conducted his research in different types of 'musical space,' from illegal clandestine parties held in changing locations, to ballet halls, drag-show bars, private living-rooms and kitchens and santería religious ceremonies. In this important study, the first on the subject, he argues that music plays a central role in providing the physical, emotional, and conceptual spaces which constitute this scene and in the formation of a new hybrid 'gay identity' in Special-Period Cuba.
Awards
Alan Merriam Prize 2015 (Society for Ethnomusicology) – Honorable Mention Announcement:
"An honorable mention for the Merriam prize goes to Moshe Morad's book, Fiesta de diez pesos: Music and gay identity in Special Period Cuba. Fiesta de diez pesos is a brilliantly rich and vivid ethnography of (male) gay musical spaces and identities in Cuba, exploring underground or conveniently unnoticed worlds and the centrality of music and dance to their existence and operation. It spans an impressive range of contexts: the precarious yet irrepressible world of underground fiestas, dance parties held in changing secret locations; the national ballet, which Morad terms the 'most obvious discreet gay space in Havana'; Santeria ritual performances, an indigenous arena that embraces space for gay and transgender performance and performers; and the ordinary domestic worlds of music and queer identification.
In all these contexts, Morad draws the reader into vibrant experiential accounts of the use of music and dance by gay men that open up interlocking meanings and functions of performance, performativity, gender and sexuality. Working in the period from the 1990s, the book explores the rapid economic, social and cultural changes in Cuba arising in response to the crisis following the loss of support from the Soviet Union. One such development is the opening up of the country to tourism, with the book growing from an initial visit by the author in 1994.
Fiesta de diez pesos is both a distinguished contribution to the ethnomusicological literature on sexuality, and an outstanding example of ethnographic fieldwork that is warm, human, engaged, unpretentiously reflexive, and strikingly perceptive. It is informative and compelling, and succeeds in analysing its subjects and their musical behaviour in close detail, but without ever othering them."
Winner of the Marcia Herndon Book Prize 2016 (Society for Ethnomusicology, Gender and Sexualities Section):
"As the inaugural winner of this new prize, Fiesta de diez pesos exemplifies the highest qualities of writing, ethnography, provocative interpretation, and commitment to political justice."
"Morad's Fiesta de diez pesos is a splendid book; a wonderful read, deep in ethnographic detail, and a major contribution to ethnomusicological literature. Well-written, rigorously researched and valuable, giving the lie to the implicit suggestion in so much ethnomusicological work that only heterosexuals make or consume music in those "Other" locales. From one of our senior committee members: "the chapter on 'gay' or 'effeminate' men and their centrality in Santeria worship is something I will add to my syllabi." – Marcia Herndon Award Committee
---
Reviews
'This book is engagingly interconnected through the common elements of tribalism, nostalgia, liminality and marginality, among others, that Morad effectively demonstrates are imitated in the musical structures of the genres themselves, as they advance from physical, to conceptual, and finally, emotional spaces. As an ethnomusicological enquiry, the study skillfully blends urban anthropology and queer studies to present a comprehensive understanding of gay life and identity in Special Period Cuba, manifested through music-albeit Havana-centric. Furthermore, as an investigation of gay consumers of non-western music genres, and not of music-makers, the research is a leading contribution within its discipline. For these reasons it will be of use to students and researchers interested in studying queer Cuban life and even more broadly throughout the Caribbean and Latin America. The content is especially timely as the world anticipates Cuba's entry into its new phase of economic and social transition, coupled with the revitalized calls for the end of discrimination against sexually diverse individuals through the advocacy of Dr Mariela Castro-Espín.' – Louis Vincent Di Paolo, Journal of Iberian and Latin American Research
"Morad's work is geared toward exposing the complexity of gay culture and experience in Cuba, a country that is often depicted as homophobic in both popular media and academic literature […] [The] book provides an engrossing glimpse into a world of drag shows, glitz, and fast dancing. His suggestion of Santería as a queer space will be controversial for some, enlightening for others, and his descriptions of his own experiences in Havana are entertaining. This is a much-needed area of study, and Morad does well to begin the debate."- Julianne Graper, Latin American Music Review
"What we have here is an important study of transcultural synthesis…With such thought-provoking material and interpretations, Fiesta de diez pesos is a stellar contribution to the field of music, gender and sexuality studies, and is highly recommended for students and scholars of anthropology, ethnomusicology, cultural studies and the Americas." – Jun Zubillaga-Pow, Ethnomusicology Forum
"Moshe Morad's illuminating ethnography of music and gayness in Special Period Cuba…Morad  navigates ably through these sites, weaving a compelling narrative that achieves the hallmark of good ethnography—opening our eyes to new and unexpected ideas while appearing completely logical and intuitive… A DJ and radio producer, Morad deserves great credit for the accessibility of his musical descriptions. Following a trend in ethnomusicology toward works that welcome a general scholarly readership, Morad's musical analyses emerge organically from the scenes he describes, and in most cases speak to wider discourses of genre, identity, and re-encoding…The seemingly intangible values contained in sound and dance come to life here, connected to politics and history through Morad's deep knowledge and experience." – Judah M. Cohen, Indiana University, E.I.A.L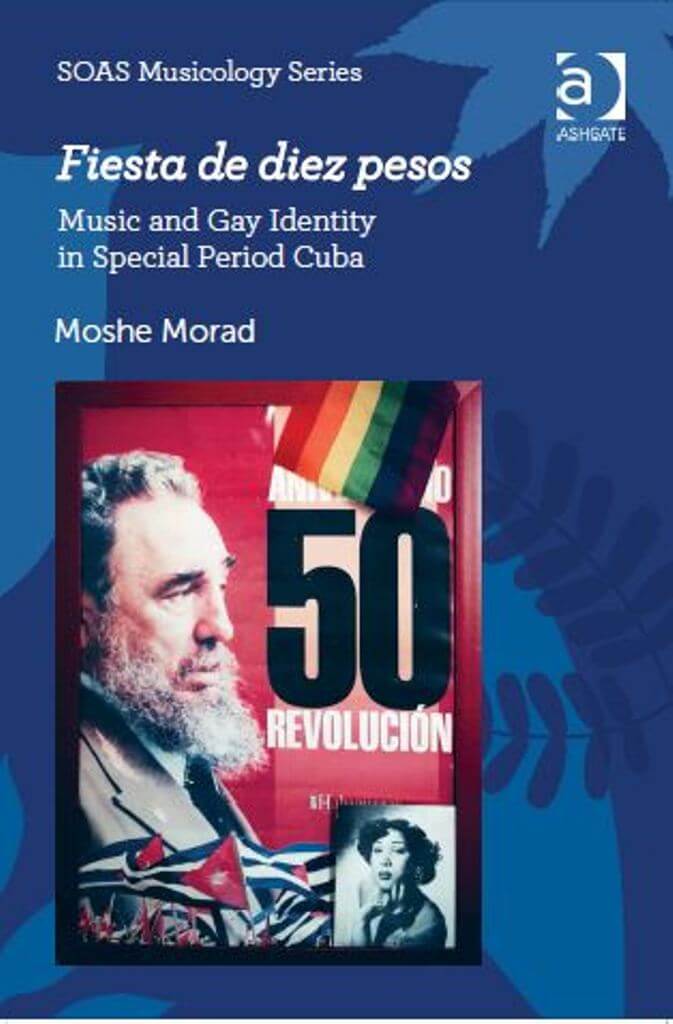 ---